I have been going through all the merchandise I have from the days when I did flea markets and had booths in antique malls. It all brings back many memories of wonderful customers, the dealers' friendship and merchandise which reminds me of my younger days.
My age, as well as arthritis, seems to have caught up with me. Physically I can no longer participate in flea markets or even antique malls. In 2003 I was diagnosed with MS.
In 2001 I opened Mickey's Attic and Bookstore.
You will find many vintage items on these pages. As well as children's books, there are board games, Barbie items, fast food toys, Star Wars and much, much more.
Please know I will add to the lists as I come across the items. To add interest, I am running a contest. Anyone who answers all questions correctly, will receive 10% off their first order. So, check the lists, select the items you want and enter the contest. When you have answered the questions and made your selections, email them to me. Unless I receive your answers, you will not receive the 10% off your first order.
My preference in shipping is Priority Mail. Small items will ship for $5.00 as long as they weigh less than 1 pound. Payment may be made by checks, money order or Credit Cards through PayPal. Tennessee residents pay 9.25% sales tax.
When you are ready to make a purchase, email me and I will give you the total cost. You may also phone me at (901) 373-9094 between the hours of 9:00 a.m. and 9:00 p.m. Central time. As I am disabled, please allow the phone to ring 10-12 times. All purchases will be mailed as quickly as possible; I depend upon others to do my mailing. I will need your shipping address and I will send mine.
You can now place your items on Layaway. 25% down with 90 days on the balance. No refunds or discounts on layaways. Just send me your list as though you were buying and put Layaway in the Subject line.
You may use the search engine for my site.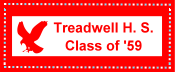 Are you or do you know a 1959 graduate from Treadwell High School in Memphis, TN?
If so, please contact me. Click the above graphic to send me an email.
Please visit Top100WebShops.com
.