Snow White and Seven Dwarfs
plastic cutout standups
These figures are rare and still unopened adds to the rarity. They were produced by Aldon Industries Incorporated, 200 Fifth Avenue, New York 10, New York and © Walt Disney Productions. I couldn't find a date, but I know they are pre 1964. Wonderful condition!
$150.00 ID #PD08

Donald Duck Light Switch Cover
I could not find a date on this item but if I were to guess, I would say from the 1950's or 1960's. It is marked WDP which definitely makes it prior to 1986. The condition is good; all you need are some screws. The measurements are 5" x 3" and it is made of plastic.
$6.00 ID #930102 SOLD
---

Mickey Mouse Age Gage
What an adorable way to decorate a birthday cake. This is a Mickey Mouse Age Gage cake ornament for ages 1 through 8. It has never been removed from the original package. The package says ©Walt Disney Productions and ©Party Favors, Inc. The Mickey Mouse piece is 5" tall and made of plastic.
$4.00 ID #930103 SOLD
---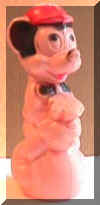 Mickey Bank
Are you a Mickey Mouse collector? If so, this 8" plastic Mickey Mouse bank may be the needed addition for your collection. Mickey appears to be sitting on a bag of money. There are no markings on the bank. Other than having a slit cut in the base to retrieve the money and needing his nose repainted, Mickey is in good condition.
$5.00 SOLD
---