McDONALD'S PAGE 3
LITTLEST PET SHOP - 1996.................$1.00 each
*Dragon

MY LITTLE PONY - 1985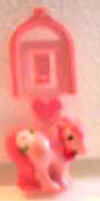 Cotton Candy was one of the premiums in a regional Happy Meals Promotion in 1985. She was one of the 6 My Little Pony clip-ons offered. Cotton Candy is pink with a paw print imprint. Although not in the original bag, the charm is in very good condition and HARD TO FIND.
$20.00 ID #010051 SOLD
TEACHERS...The Apple of our Eye

This 4 1/2" white plastic mug comes with a red lid and a red holder which can be attached to the dash of the car. There is not a date on the cup. It was a premium from McDonald's. It has never been used.
$3.00 ID #010052
Lifeguard Barbie & Ken (MIP)
Lifeguards Barbie & Ken were part of the 1995 McDonald's Barbie set. The lifeguards came either as white or black dolls. These are the black dolls. Both are mint in mint packages.
$10.00 set ID #010053
RONALD McDONALD INFLATABLE/HAND PUPPET

This early McDonald's give-away is © 1976 McDonald's Systems. You could inflate it or cut on the dotted line to make a hand puppet. This item is mint and hard to find.
$10.00 ID #951326
updated 07/04/2008